Recap AMA CryptoVN x ShuttleOne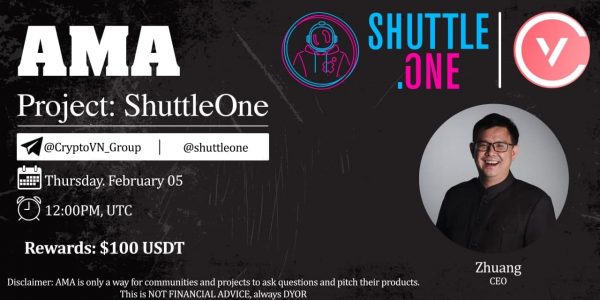 Part 1: Introduction/Questions from CryptoVN Team
Part 2: Questions from Twitter
Part 3: Live AMA
PART 1 – INTRODUCTION
Q1: Can you introduce yourself and the project a little bit?
Zhuang – CEO:
For starters, I am Zhuang, I am the founder and CEO at ShuttleOne. Personally, I am a ex investment banker dealing in structured products and quantitative finance before I became an entrepreneur in the agriculture industry. Yes, I became a farmer. You folks can read more about my story here: https://www.asiaone.com/betting-farm-1
After successfully exiting from the farming business sometime in 2017, I begun to transit to be involved in the crypto space by way of mining Ethereum. It was funny as I read about bitcoin in 2011 and I thought at that time I was late, nonetheless I got started in mining eth and built one of Singapore's largest mining facilities. More of the story here: https://www.straitstimes.com/business/companies-markets/from-farming-veggies-to-mining-digital-currencies
Miners have one issue, the problem is we still need fiat currencies to pay for our electricity, rent workforce etc. These are costs that we as miners had to exchange eth to domestic currencies. This therefore gave spark at the end of 2018 to begin what we have today in ShuttleOne.
We've been building ShuttleOne for the past 2 years now and we begun to dabbling in DeFi from a very early stage at the end of 2019 with the various options like Maker.
As for shuttleone…
ShuttleOne is a defi company and we are based in Singapore. We offer trade financing and microloans using the blockchain by tokenizing real world assets. We are probably one of the few crypto companies in the Defi space that applies the blockchain and crypto for real world problems in this case the financial services industry.
We support Government to Business companies around the region by lending stablecoins out to these merchants who needs loans and borrowing.
Q2: Can you tell the community some of the ShuttleOne achievements?
Zhuang – CEO:
Since inception, ShuttleOne has been a small team. We've been funded in Singapore when we obtained not 1 but 2 grants from the central bank.
Globally, ShuttleOne equity investors include Maker, CMT Digital, Andromeda Capital and various angels in Singapore. Recently, Microsoft's ex Director Charlie Songhurst who took over Yahoo and Skype also invested in us.
Going forward, ShuttleOne is looking to introduce innovative solutions that will attract more assets and liquidity into the ShuttleOne.Network.
We started ShuttleOne partly because we had a lot of stablecoins that were sitting in our wallets and were thinking how can we build a business and allow interests to be made like a savings account. Therefore at the moment, for liquidity suppliers, we are one of the highest paying interest rate of 10% at the moment on Dai, USDC and USDT both in the crypto space and also against banks.
Q3: Can you share ShuttleOne roadmap?
Zhuang – CEO:
as we are a start up that has been around since 2019
here's our past and present roadmaps
here's whats going on in 2021
PART 2 – TWITTER QUESTIONS
1. @thanhhoai91
Currently ShuttleOne is blockchain agnostic and can run on any ethereum compatible network. So in the future do you plan to develop that ShuttleOne can be compatible with other platforms like bep2 or tron?
Zhuang – CEO:
We understand the need for cross chain transaction features. It is also good to be able to bridge other blockchains onto Ethereum. In fact, we've been testing on a few chains and are trying to build the bridge in-house ourselves.
We've been exploring the possibility of Tezos, Kuchain and here's something we're testing now on Binance Smart Chain:
https://testnet.bscscan.com/address/0x82ea2104fa9edac604a59cd93148452c2121da23#code
2. Võ Kiều Oang
@auvantam1
Where did the idea to create ShuttleOne come from? As I read on your site it came from a simple Power Point. How did this happen? Where did you initially get the funding to start the project?
Zhuang – CEO:
very good question..
ShuttleOne was set up in the beginning of the crypto winter sometime end of 2018. At that point in time, the founders of ShuttleOne was very disappointed in the crypto industry not only from a pricing stand point. There were many scammers, bad projects that didn't deliver the promise of what crypto and the blockchain was set out to do. Which was to transform the financial industry, to deliver next generation products to serve societies.
We named the company ShuttleOne as we believe we are the team to build a vehicle to bring everyone who believes on board and to the moon! And this can be seen very clearly in the problems we are tackling in the real world. Namely, solving the real world problems of underserved businesses, provide seamless finance to entities that are not served well by banks.
Therefore, I would call on your support on the community to look into what we are offering and supply liquidity to enable this very special project of ours at www.shuttle.io/mainnet
More importantly, the ShuttleOne co-founders were trading a lot of crypto, increasingly, we were keeping a fair bit of our balances in stablecoins, and often times we find that keeping these stablecoins in our wallets are capital that are not working for us, it is not earning money as we sleep. So we decided to address this problem and started to build a business around it.
3. Rosa
@foodynow
As far as I know Shuttle One will be listed on DODO exchange, Why did you choose DODO exchange as the first exchange to list SZO? Are you planning to list larger exchanges like Binance or Houbi?
Zhuang – CEO:
before i answer why we chose dodo…here's the listing announcement
https://t.me/shuttleoneANN/156
We chose dodo as it is a liquidity protocol that is leveraging a unique Proactive Market Maker algorithm. The exchange is backed by some of the most leading decentralized finance sector investors that share a single goal of bringing the DEX to the next level.
its math and the structure of the exchange is quite unique…internally, we call them the uniswap of China haha..
In addition, DODO decentralized exchange can compete with centralized exchanges (CEXs) thanks to its concept of contract-fillable liquidity. The exchange also provides low barriers to entry and claims to have a "pain-free token issuance mechanic for long-tail assets
We have plans for other exchanges, but those are in negotiations at the moment….
4. Rahul
@Rahul17567317
There was a big burning for $SZO recently. What makes you to do such a big burning?Can I get more details about that big burn?Also can I expect more big burns for $SZO on future?
Zhuang – CEO:
The burning of the SZO token is tied to a working product and the business. If there are loans/repayment or remittance that are being done on the ShuttleOne.Network, the SZO tokens are burnt to incentivise the holders of the SZO tokens with a lower market cap and circulating supply.
Liquidity suppliers to the mainnet of ShuttleOne www.shuttleone.io/mainnet receives SZO as a reward, as it helps our business as there is liquidity supply, whenever the business does a loan, repayment or remittance in the products of ShuttleOne, SZO is burnt to reduce the circulating supply. Thats why at this point, there's only around 0.89% of the SZO shuttleone tokens in circulation generated via liquidity mining……the burn is constant as long as there is business
You may get more details here:
https://medium.com/shuttleone/szo-3-things-you-need-to-know-about-the-shuttleone-token-6f5a45ad45d9
5.Vũ Đình
@okme58111039
What will happend if there are NO MORE $SZO to burn ? And about the Mainnet , is it complete yet ? If we providing liquidity to get $SZO on Mainnet, will $SZO running on it's own chain or still using Ethereum ?
The good news is. SZO burning DOES NOT have an end nor a limit, the circulating supply will continually be burnt as loans are applied for an disbursed. We've designed an interesting tokenmetrics that supports the business and our token holders. You may check out the smart contract for SZO here:
https://etherscan.io/token/0x6086b52Cab4522b4B0E8aF9C3b2c5b8994C36ba6
Every time a borrowers take a loan, SZO is burnt from circulating supply. This changes the game from current farming tokens as we support real world problems and businesses, token holders who are mining SZO can be sure their interests are aligned with our business interests.
Simply put, good business, more burn, price action. This is to support token holders and liqudity suppliers who have given their support to the business.
You may go to our guides to find out more about the SZO token:
https://shuttleone.gitbook.io/step-by-step-guide-to-the-shuttleone-network/the-shuttleone-token/introduction
PART 3 – LIVE ASK
1.@CSNDer0
You said that, Earning our Liquidity Suppliers 10.00% APY. F tell me if there is a price support so that I, as an investor, would be calm that if the price of a token fell by 15%, for example, with an income of 10%, I would not receive an expense
Zhuang – CEO:
Liquidity suppliers earn 10% APY on their stablecoins
They also get SZO as a reward for their supply of capital.
Therefore the price of SZO does not affect the 10% Apy That is paid out for their stablecoins
So you as an investor is actually getting 2 types of rewards
2.@fmlkfi9e
As we know , Most of the blockchain/cryptocurrency projects are not solving any real problem, they just exist to sell their tokens. What problems exactly is Shuttleone solving, and solutions are you provide? @Zhuangg535
Zhuang – CEO:
If you look at our Guides
https://shuttleone.gitbook.io/step-by-step-guide-to-the-shuttleone-network/about-shuttleone/case-studies
You will realise that we've been one of the few companies solving real world problems in trade finance and remittance
The smart contracts loan system we built powers some big platforms such as Shopee in south east Asia
Here's the advert:
https://t.me/shuttleoneANN/65
And we did not do an ICO means we didn't sell any tokens for fund raising
3.@zzcuna
How is ShuttleOne enabling commercial financing in the COVID19 pandemic? If you work for unbanked users, how do you convince them to use the ShuttleOne platform? What are the most important benefits it offers them?
Zhuang – CEO:
We scaled and deployed our product during the pandemic. It was our defining moment as a company and it benefited many small and medium sized businesses here in South East Asia…you may read more here:
https://t.me/shuttleoneANN/51
4.@lvoirm
Smart contracts are vulnerable to bugs, and even recently three big new DeFi projects were victims of this, costing users funds. How efficient and secured is your smart contract, and did you ever audit it via any external party? hi @Zhuangg535
Zhuang – CEO:
Security and Risks are very important to us. The SZO contract is audited by Peckshield as early as April 2020. You can view the smart contract audit on www.github.com/shuttle-one
We always ensure the safety of our users and that is also part of our licensing application with the Monetary Authority of Singapore. Which can be found on our github also.
I don't believe many defi projects are looking to be regulated, ShuttleOne is one of the few globally that has taken steps to do it to safeguard our investors, company and liquidity suppliers.
You may read up on how we deal with risks and security here:
https://shuttleone.gitbook.io/step-by-step-guide-to-the-shuttleone-network/the-shuttleone-token/risk-management-and-disclaimers
5.@sagnzhu
Recently the synthetic assets have become one of the most popular alternative assets besides cryptocurrency, does Shuttle One have a feature that allows its users to pledge their assets into the blockchain world? @Zhuangg535
Zhuang – CEO:
Real world assets are generally what we are going for. Therefore we call ourselves DeFi for the real world…..recently we have done a S$100,000 loan to a SME here in Singapore who pledged their assets into our ecosystem….you can read more here:
https://t.me/shuttleoneANN/158
this is probably the first DeFi to Real World loan to a ecommerce trader in South East Asia….
and it represents a huge milestone in our roadmap…
WINNERS LIST
Part 2
1 @thanhhoai91
2 @auvantam1
3 @foodynow
4 @Rahul17567317
Part 3
1 @CSNDer0
2 @fmlkfi9e
3 @zzcuna
4 @lvoirm
5 @sagnzhu