Recap AMA CryptoVN x Aliens Worlds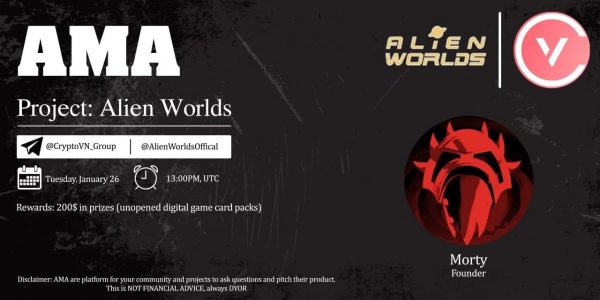 Part 1: Introduction/Questions from CryptoVN Team
Part 2: Questions from Twitter
Part 3: Live AMA
PART 1: Introduction
Q1: Can you introduce yourself and the project a little bit?
Morty – Founder:
My name is Pramod. I go by the name Morty in many crypto groups on discord and telegram.
I am a game designer by profession and a graphic artist.
I've been a part of the Alien Worlds team right from it's inception.
My past experiences have been in designing rules, levels and economies for mobile and pc games. My contributions to the game has been mainly in the area of design, creating NFT art and managing a team of external developers to ensure product delivery on time.
Happy to be here to share Alien Worlds project with you.
In 2019-2020 we saw that NFT hype increased drastically with games like Crypto Kitties. Decentraland on Ethereum, Splinter Lands on Steam/Hive blockchain and many more.
Alien Worlds is an NFT defi metaverse where NFT collectibles have utility in-game and are fully user-owned and uses both WAX and Ethereum blockchain
• Initial games are mining and staking
• Planets are DAOs, each have their own fungible token
• Universal fungible token of the metaverse is Trilium – an ERC-20 token also on WAX
Moreover, Alien Worlds is the only cross-denominated project running on Ethereum and WAX. Trilium, the metaversal fungible token, is both
Another way to look at Alien Worlds with a little bit of backstory and premise is that it is a futuristic simulation of a virtual world where mankind was forced to leave earth due to factors like pandemics, climate change etc and they then went to set up new worlds outside earth where everything is tokenised in the form of NFTs. From land plots, to tools and weapons to everything else there is. The Alien Worlds metaverse has it's own metaversial currency called TLM (fungible erc-20 token) which can be mined using tools which is then used to participate in various activities the metaverse has to offer.
Alien Worlds features 6 planets DAOs into space where they compete for control of TLM. Landowners in Alien Worlds compete or come in allegiance with other land owners to make their land most attractive to miners who mine TLM and NFTs. Miners continuously keep discovering new mining strategies to optimize their mining efforts.
There's a big DAO element as well which aims to mainstream DAOs in a gamified way
Q2: Can you tell the community some of the Alien Worlds achievements?
Morty – Founder:
Alien Worlds has achieved a lot in a very short span.
I've compiled a small list of our achievements.
-Alien Worlds is currently the biggest blockchain game in terms of Active users.
https://dappradar.com/rankings/category/games
-We are the sixth biggest Dapp in the world
https://dappradar.com/rankings
-Shining feature which was one of the biggest milestone for us as per our star route released yesterday.
Here are some interesting stats for shining
Cards Burned- 9052
Cards Mints- 2152
TLM Burnt- 1629500.0000 TLM
-Over 6.8k Daily Active Users
-Total number of unique wallets- 10k and growing
-Over 18.7M TLM mined
-Over 20.3M TLM staked across all planets
– Our flagship Land Pack dutch auction-style sale of 36 periods went live on December 4th, 2020 with ETH and WAX and was completely sold out marking it the most successful auction on the WAX blockchain. This was very kindly featured by CoinTelegraph.
https://cointelegraph.com/news/move-over-kickstarter-nfts-are-the-newest-way-for-indie-games-to-fundraise
-As a Community, we have grown to over 3.2k members on our Telegram with Discord growing rapidly with 1.5k members.
-We've also noticed some great initiatives from the community to build supporting tools that improve the overall experience of the Alien Worlds Metaverse. Here are some famous community-built tools
Active miner stats
https://wax.stats.eosusa.news/d/IDpsWwxGz/alienworlds-active-miners?orgId=1
Planet stats
https://wax.stats.eosusa.news/d/g-n07fbGz/alienworlds-planet-info?orgId=1&refresh=30s
Planet Mining and Staking stats
https://aw.anyo.io/
Guides, tools and economics
http://alienverse.net/
These are the tools built by our community and there are many more which I've not compiled in my list
Q3: Can you share Alien Worlds roadmap?
Morty – Founder:
We've named our roadmap a "Star route" on our website as where we are heading there are no roads available there.
So, far we've completed our MVP (minimum viable product) launch which gained about has over 10k unique users in 4 weeks span, while the game was in beta
The MVP includes features like Mining, Staking, Setting Land commission.
Shining released yesterday, where players can combine 4 similar NFT and shine them to get a better looking NFT and better stats.
We have planned a lot of interesting things around land, which is one of the key elements of the Alien Worlds metaverse. You can find everything about the Land roadmap here
https://alienworlds.medium.com/alien-worlds-land-roadmap-81ad6b9a13fa
To see the full roadmap you can check out our Star Route on our website
https://alienworlds.io/
Before we move on to the next section. I have a special announcement to make.
We have organized a special giveaway for this ama. Anyone who joins our telegram community with the hashtags #helloalienworlds #CVN and their wax cloud wallet name gets a chance to win an Alien Worlds Promo pack
Join here: https://t.me/AlienWorldsOffical
You can get a wax cloud wallet account name at wallet.wax.io
PART 2: Twitter questions
Q1: AlienWorlds is developed by Blockchain Wax. How to make DeFi's gramification model and the most attractive NFT asset on the market? How will Trilium & NFT help achieve AlienWorlds' goal of becoming the best gaming platform on the gaming market?
Morty – Founder:
Alien Worlds is also touted as Defi NFT Metaverse as Alien Worlds has all the common characteristics of a Defi Project. Alien Worlds offers mining (farming), staking for rewards and governance. These have been the most common characteristics and grassroots of any Defi projects that are out there.
We wanted to build something that combines, NFT, Defi and DAOs together and uses gamified methods for user interaction
Alien Worlds NFTs have game play characteristics built in to their attributes. So some land and tools (which are both NFTs) yields more Trilium when you mine it, some produces more NFTs, some can be mined more frequently. In earlier generations of NFTs, they mainly had collectible value – think CryptoPunks which is really cool if are a collector – but now NFTs have attributes recognised by the gaming smart contracts
Moreover, NFTs can also have mutable stats and some of our newer NFTs which will be revealed with the launch of the fighting game will have mutable stats which will improve the overall dynamics of the game. We haven't seen any other project using the mutable stats of NFTs within this space.
Q2: Can you explain what Land is and why it is so rare, what makes this system special in Alien Worlds comparing it with other NFT projects such as Decentraland and Sandbox since you mention them in your medium?
Morty – Founder:
Land in Alien Worlds is very scarce
Only 3343 Land plots exist — they all equate to an area on a map shown in this post. Only 3,000 Land plots were sold. There is no more Land on our 6 planets.
Compare this to other projects we also respect, like Decentraland and Sandbox, with about 90k and 120k Land parcels respectively, and you'll see how scarce Land in the Alien Worlds metaverse is.
Owning Land earns you Trilium passively — without you doing anything — because when miners mine on your Land they must pay your specified "commission". Commission is the percentage of the Trilium mining yield that must be paid to the landowner.
Land can be used to mine very shortly. And in the medium term, we also plan to introduce incentives which will make it worthwhile for landowners to add value to their Land. Our Star Route (road map) envisions Land development/terraforming and immersive experiences.
We have further plans to bring in more additional features to land like
Land Rating system – The Land Rating impacts how much of the Daily Trilium Allocation to Landowners a Land NFT receives.
Terraforming – Terraforming is when a Landowner purchases an upgrade which increases the Trilium yield of the Land, either by increasing the payout from the Daily TLM allocation or by improving mining variables.
Windows and Services – Landowners have a Window and can offer Services to the metaverse
You can read more about these additional land features in detail on our land roadmap post
https://alienworlds.medium.com/alien-worlds-land-roadmap-81ad6b9a13fa
Q3: Are there any hidden gems about your project you have not talked about till now that you believe makes you better than other projects similar to yours that would make me what to invest in your project?
Morty – Founder:
There are few things that appear on tech blueprint which we didn't get the opportunity to discuss.
As part of the Roadmap, the following gameplay elements and modifier are envisaged to be released.
– Interoperability – NFTs
Alien Worlds is a place where NFT collectibles can take on gameplay powers.
External collectibles
It is possible for external NFTs built on Atomic Assets to be used to play Alien Worlds genesis games (mining, fighting).
For example – GPK collectibles within Alien Worlds
A player could set their GPK card as their avatar, giving the player specific defined attributes
-Modifications to Land NFTs
Ability to 'name' land
Ability to sell advertising links on land
Ability to develop / build on land and have those assets modify the productive capacity of the land
-Avatar extensions
Ultimately 3D customisable Avatars that can explore the Alien Worlds are roadmapped
Minion extensions
-An offchain game element in which Minion NFTs can be sent to fight each other
-"Mana", a variable describing the users' power with deploying Minions, to be integrated into the game
Q4: As an NFT defi metaverse running on the Ethereum and WAX blockchains. What do you see an advantage of this two blockchain? Why does Alien Worlds choose Ethereum and Wax? What impacts that it will bring to you platform and to investors?
Morty – Founder:
The fact we have a Ethereum layer 1 with WAX layer 2 means we can attract many users through of ETH but have the free transactions and easy user onboarding of WAX.
This has already driven us up the rankings to be the 1st largest blockchain game per Dapp radar, (https://dappradar.com/rankings/category/games) just a couple of weeks post beta launch with almost no marketing yet (as we were in soft beta).
Other blockchain games especially those only on Ethereum with no layer 2, are having to back a layer 2 into their systems because high gas fees mean users are unable to play. So we are probably a year ahead of those Ethereum only games that have no layer 2.
Alien Worlds is so far the only project out there which doesn't require you to hold/spend any crypto to buy starter items. We provide you the items you need to get started for free.
The WAX Cloud Wallet is really the only prerequisite to playing the game, which just needs an email address to setup. So as barriers to entry go, esp in crypto terms, that's pretty low.
Using Wax as layers 2 we can easily onboard new users who are not very blockchain tech savy as it only requires an email address to get started
PART 3: Live ask
Q1:  What is the strategic planning put in place for marketing AlienWorlds to adopters in the crypto space? @drzy16
Morty – Founder:
Our next strategic plan is to spread awareness about the game in blockchain communities and others through these AMAs, publishing articles and creating tutorials and guides to make it easy for our players to learn about Alien Worlds. We have a great marketing team that is helping us with that.
Making Alien Worlds metaverse a platform rather than just a game for new projects to take leverage of our Planet NFTs tech to increase their outreach in the NFTs space.
In addition to the above we continue to build more community requested features to provide a rich play 2 earn experience to all our players
Q2: What difficulties have been encountered during the development of #Alien Worlds? @thoreasy
Morty – Founder:
-Onboarding non blockchain users
-Fast and feeless transaction
-Game balancing
Thanks to Wax blockchain we were able to overcome the first 2 difficulties.
We have also been very fortunate that a lot of the tech we are building with is stuff we have been developing for the last 3 years already.
As far as game balancing goes this is going to be an on going challenge as we add new features to the game, ensuring our systems don't get gamed.
Q3: What are your status regarding the audit of your smart contracts and security mechanisms to protect and assure the participants of the ecosystem?@Pinkki99
Morty – Founder:
We are working with one of the best minds in the blockchain space and our contracts are regularly checked by the veterans from this space as they are continuously contributing to our development.
We are in talks with sentnl.io for auditing our smart contracts. Sentnl is a very reputed firm in the EOSIO space.