Recap AMA CryptoVN x Thundercore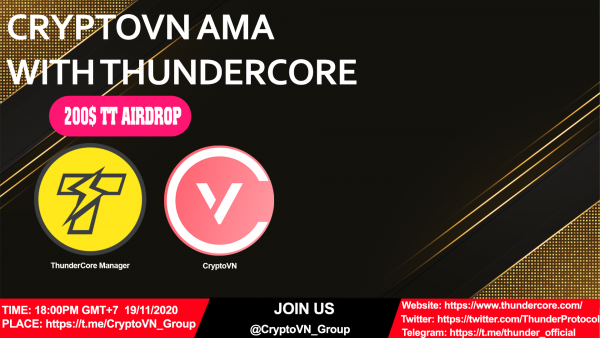 Recap AMA CryptoVN x Thundercore
TOPIC: Let's have a better understanding of the ThunderCore
Guest: Anh – Co-founders at CryptoVN – CM at Thundercore
Time: 18:00PM (GMT+ 7) 19/11/2020
The ama session will have 3 parts:
?1. Introduction
?2. Answer question on Twitter
?3. Quiz
PART 1:
Host: 
Now we are going to Thundercore AMA.
Please welcome our guest for today @peteranh910.
Glad to have you in here!
Anh – Co-founders at CryptoVN – CM at Thundercore:
Nice to be here!
Host: 
Hope our members can learn more about Thundercore Project. Now we will go for 3 segments:
?1. Introduction
?2. Answer question on Twitter
?3. Quiz
Are you ready ?
Anh – Co-founders at CryptoVN – CM at Thundercore:
Go ahead!
Host: 
Can you give us a brief introduction to ThunderCore and its achievements so far?
Anh – Co-founders at CryptoVN – CM at Thundercore:
First of all, thanks for having me here today. If you have any questions, please share with us. If you want to have a deeper understanding of ThunderCore, you are also welcome to follow us on Twitter @ThunderProtocol, our website (https://www.thundercore.com/).
ThunderCore is an open, decentralized and high-speed public blockchain. ThunderCore is compatible with the Ethereum Virtual Machine (EVM), which means that developers could port their applications to ThunderCore in minutes. ThunderCore has the world's leading consensus algorithm which is developed by our world-class research team and uses Proof of Stake (PoS). The algorithm has been mathematically proven secure by top peer-reviewed conferences in Cryptography.
Our founder Chris Wang graduated from UC Berkeley with a Bachelor's degree in Computer Science at the age of 19. After only two years and ten months, he obtained a Doctorate(PhD) in Computer Science from Carnegie Mellon University (CMU) at the age of 22 鈥 setting the record for the fastest completion of a Computer Science 馃捇PhD degree in the department!
Before ThunderCore, Chris Wang previously founded a gaming company Playdom , which acquired over 100 Million users and reported a Daily Average User (DAUs) count in excess of 20 Million users. In 2010, the 20-month-old company was acquired by Disney for a record breaking $763.2 Million USD, the richest deal in the social games market (TechCrunch: https://techcrunch.com/2010/07/27/playdom-acquired-by-disney-for-up-to-763-2-million/).
In 2017, Chris Wang founded ThunderCore, a next-generation decentralized public blockchain with top academics and experts in the industry. ThunderCore raised $50 million USD to build a fast, secure and scalable Blockchain platform. Investors include Pantera Capital, Huobi Capital, MetaStable, Zhen Fund, Arrington XRP Capital, FBG Capital, etc.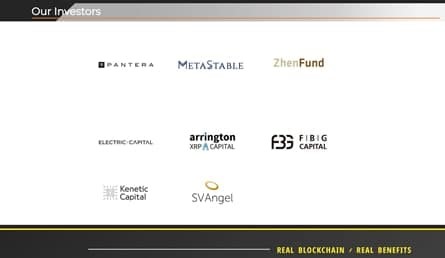 In March 2019, ThunderCore's mainnet went live, and the team has since focused on building the ecosystem. Thanks to the technical advantages of sub-second confirmation times, cross-chain communication and high throughput, ThunderCore is able to support a wide spectrum of use cases.
In March 2020, ThunderCore's mainnet was upgraded to the PaLa consensus algorithm, which pushed performance to a whole new level: 4000TPS(transactions per second).
Host: 
What does ThunderCore think of DeFi?
Anh – Co-founders at CryptoVN – CM at Thundercore:
In order to truly realize the vision of Decentralized Finance, a high-performance and cost-effective public blockchain must be the cornerstone of such development. And ThunderCore is perfect for that.
To truly realize the potential of DeFi, we need to both onboard non-crypto users and attract existing crypto users. We have detailed ThundeCore's existing DeFi landscape and outlined our vision in the following blog post:
ThunderCore's DeFi Landscape and Future Vision: https://medium.com/thundercore/thundercores-defi-landscape-and-future-vision-9bbe67548b5c
One of the most important DeFi infrastructures on ThunderCore is a decentralized exchange(DEX) called TTSwap. You can trade a variety of stablecoins(TT-USDT, TT-USDC-TT-SAI) and TT20 based tokens on this decentralized exchange. Moreover, if you were to become a liquidity provider, you could generate a passive income stream from transaction fees. For more details, feel free to check out the following blog posts:

ThunderCore's DeFi 101: Get Started with DEX like TTSwap: https://medium.com/thundercore/thundercores-defi-101-get-started-with-dex-like-ttswap-3f63f1cbc121
ThunderCore's DeFi 101: How to earn transaction fees on TTSwap as a liquidity provider? https://medium.com/thundercore/thundercores-defi-101-how-to-earn-transaction-fees-on-ttswap-as-a-liquidity-provider-b074998c03ab
ThunderCore's DeFi 101: Understanding AMMs and the future of TTSwap: https://medium.com/thundercore/thundercores-defi-101-understanding-amms-and-the-future-of-ttswap-943f5f1aa7ae
In fact, one of the most popular DeFi DApps on ThunderCore has been TT Mining Festival, which is accessible within ThunderCore Hub. Thunder Tokens are rewarded to ThunderCore Hub users just by holding tokens inside the ThunderCore Hub app and the interests are accrued in real-time in your account, making good use of idle funds for mobile users.
The success of TT Mining Festival, TTSwap and other DeFi DApps have helped ThunderCore Hub grow its Daily Active Users(DAU) by more than 1.5X in the past 3 months(August-October) compared to the previous 3 month period(May-July).
HOST:
What does ThunderCore think of Interoperability?
Anh – Co-founders at CryptoVN – CM at Thundercore:
Good question!
Interoperability has been one of the key areas of development and remains the focus of ThunderCore going forward, particularly because interoperability is a key requirement for a lot of DeFi DApps. For a long time, different chains have been seen as silos with no real interaction with any other networks. When a developer comes up with an idea and wants to deploy smart contract code, it's hard to decide which one to use, especially if it means committing with the assets or data. This has forced DApp developers to choose between blockchains and committing their assets and data.
Ideally, we want to freely move our assets and data between blockchains, or even run DApps on multiple blockchains simultaneously and take advantage of what each of them has to offer. For example, we can leverage the high performance on the ThunderCore blockchain while taking advantage of the existing community and ecosystem on another blockchain like Ethereum.

ThunderCore believes that developers shouldn't be forced to lock themselves into one chain between ThunderCore and Ethereum and forgo the benefits of the other. We want developers to have access to the same assets on both blockchains and even have DApps that seamlessly communicate across the boundary. To this end, we have been building a bridge infrastructure since last year, which we call ThunderBridge, to connect the Ethereum and ThunderCore blockchain, and we want the lowest possible trust level one can have for an interoperability solution.
ThunderCore's Interoperability: empowering DeFi through cross-chain interaction: https://medium.com/thundercore/thundercores-interoperability-empowering-defi-through-cross-chain-interaction-1fbaf44df90d
Most recently, we have just launched support for TT-WBTC and TT-USDC, with TT-ETH coming soon! Users can now open up their ThunderCore Hub wallet and deposit their Ethereum WBTC(i.e. ERC20-WBTC) and Ethereum USDC(i.e. ERC20-USDC) to mint TT-WBTC and TT-USDC. This is a huge milestone for ThunderCore because it's a crucial step on ThunderCore's interoperability roadmap. With these three new tokens joining the existing lineup, ThunderCore can now enable well over 75% of the entire crypto market cap to be interoperable in theory. For more information, please refer to the following post:
ThunderCore's Interoperability: supporting 75% of the crypto market cap: https://medium.com/thundercore/thundercores-interoperability-supporting-75-of-the-crypto-market-cap-96a5d463d289
HOST:
How does ThunderCore bring real, tangible benefits and value of public blockchains to the masses? Can you share some specific cases with us?
Anh – Co-founders at CryptoVN – CM at Thundercore:
Sure!
Since the mainnet launch in March 2019, the ThunderCore team has devoted ourselves to the core principle of "Real Blockchain, Real Benefits".聽Today, I would like to share with you three specific use cases: Data storage Service, Smart Contracts and Financial Freedom.
Blockchain guaranteed hassle-free data storage
As we all know, the transparency and credibility of most opinion surveys are often scrutinized by the public: the data can be easily tampered with, and personal privacy is not guaranteed. People have been discussing the idea that Blockchain's features such as transparency, tamper-resistance are a perfect fit for such processes. Up until now, however, we've only seen a handful of prototypes and research papers: the real benefits of Blockchain have not been fully realized. The ThunderCore team is hence dedicated to the mission of putting the theory into practice and bringing real benefits to the people.
Just last year, in November 2019, the Taipei City Government announced the "i-Voting Opinion Survey Platform", which collects opinion on public policy, will formally adopt blockchain technology. The Department of Information Technology (DOIT) of Taipei City Government announced that ThunderCore鈿 was selected to implement and deploy the project after a rigorous examination of different blockchain technology and project teams.
ThunderCore will be the Blockchain technology service provider for the project. Through ThunderCore's premium public blockchain technology, i-Voting will increase transparency and will drive higher public trust. The collaboration makes the i-Voting platform more credible: All the voting records on the website will maintain their security and credibility through ThunderCore's data storage service.
ThunderCore was selected because it has delivered on the promise of bringing blockchain technology to the masses. i-Voting is a prime use case for the data storage technology built into ThunderCores' world-leading technology.
Historically, there have been multiple issues involving voting including manual errors, audit trails and duplicate voting. Now, leveraging ThunderCore's blockchain technology, people can see voting records openly on a designated ThunderCore platform. Audits are greatly facilitated and any incorrect voting record will be identified and marked by the integral blockchain functionalities.
The most exciting part of this is that Taipei residents can enjoy the amazing efficiency and simplicity of ThunderCore technology when they cast their votes in opinion surveys on the City Government's website.
Compared with technologies developed in the past, ThunderCore's high throughput (4000 TPS) and sub-second confirmation features are encapsulated and abstracted away in the back-end. Therefore, residents don't have to change their habits, meaning they don't have to go out of their way to learn the technology before they use the platform every day.
For the city government, data processing becomes so much easier and manual counting errors can be completely avoided. When dealing with audits and requests from other parts of the government and the public, the city government can also share the on-chain data easily for them to verify the fairness and correctness of the voting process.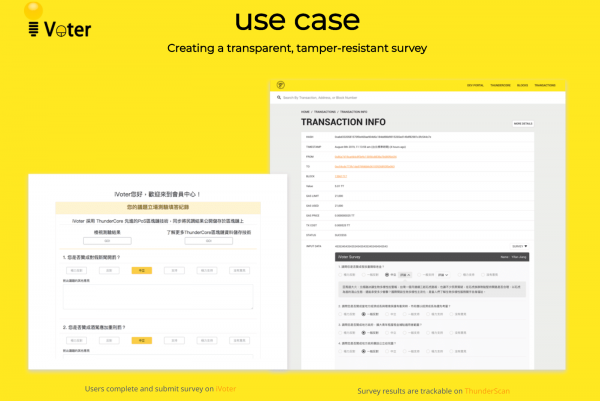 Smart Contracts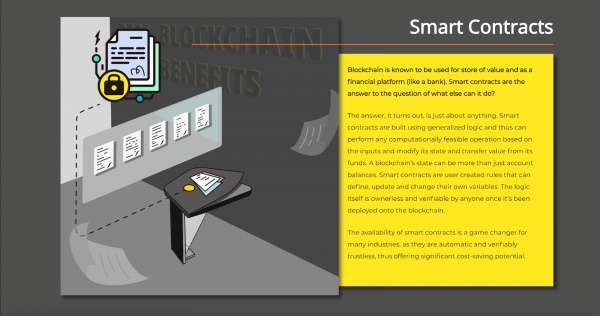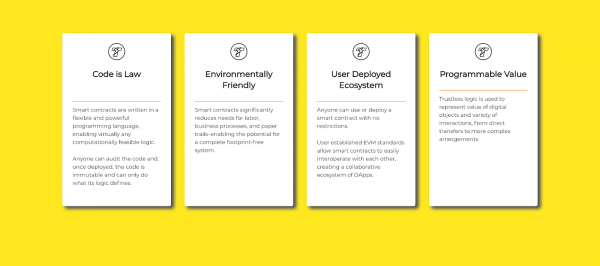 Another major milestone for ThunderCore in 2019 was winning the "Blockchain application service" bid of Taipei City Government. ThunderCore became the Blockchain infrastructure service provider of "Taipei Government Blockchain Applications". The project is to build a Blockchain node service and provide Blockchain services to benefit the Taipei public.
The most prominent use case in this service is the allocation of public resources by the Taipei City Government through a public lottery, including the allocation for admission to popular and overfilled schools and the quota for purchasing subsidized housing.
However, as the existing system is centralized, citizens worry about fairness and transparency. To solve this problem, ThunderCore worked with the city government team to put the entire lottery system into a smart contract. The contract is provably fair, trustless, and its rules for the lottery are auditable by anyone by inspecting the source code. Transactions for applying and choosing winners are efficiently handled through the smart contract and the entire process is fair and verifiable. The core technology behind is the verifiable random functions (VRF) developed by ThunderCore.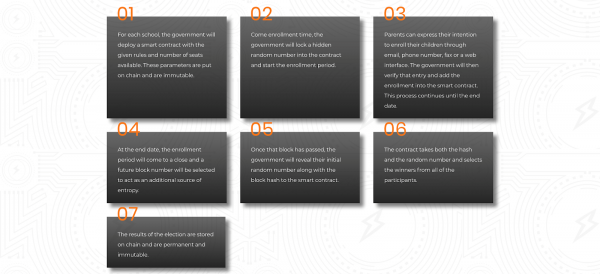 Crypto Powered Financial Freedom
In addition to the technical advantages of the ThunderCore Blockchain mentioned above, the ThunderCore team also firmly believes that the decentralized token economy based on Blockchain can democratize finance and help more people achieve financial freedom.
The core product is ThunderCore's mobile application ThunderCore hub: https://www.thundercore.com/thundercore-hub/
Which is available on Android and iOS now.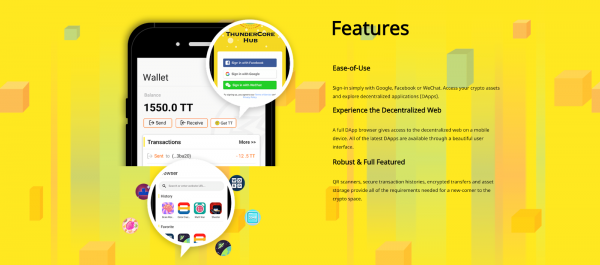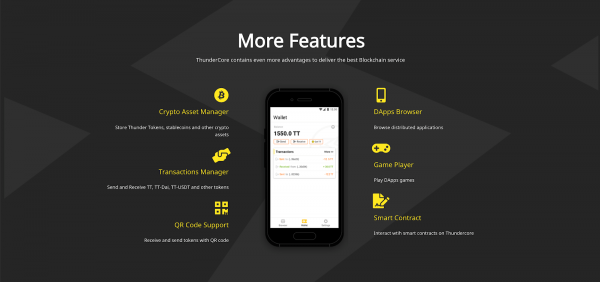 HOST:
You just mentioned that in ThunderCore Hub, users can manage their finances through a variety of DeFi DApps. Can you give us more details about how our users can participate?
Anh – Co-founders at CryptoVN – CM at Thundercore:
Of course!
There are 2 main categories: checking account(aka current account), and savings account.
(1) The savings account: Staking Pool
– Staking Pool Service: ThunderCore's official Staking Pool
The staking pool service, which is accessible from the ThunderCore Hub app provides up to 30% returns annually. While helping to maintain network security, users can also collect the interest at any time and redeem the principal after the end of the lockup period.
(2) The checkings account: TT Mining Festival
TT Mining Festival is an DApp that is accessible within ThunderCore Hub, it's an event period where Thunder Tokens are rewarded to users just by holding them inside the ThunderCore Hub app. TT Mining is extremely flexible in the sense that any user can redeem both the interest(rewards) and the principle at any time, no strings attached. And the interests are accrued in real-time in your account, making good use of idle funds for mobile users.
TT Mining has risen to become ThunderCore's flagship DeFi product, which consistently stayed at the top of DApp ranking charts in terms of user numbers.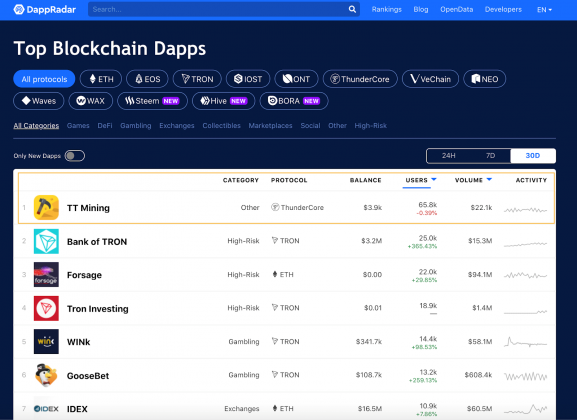 HOST:
The ecosystem of a public chain has a lot to do with the level of engagement and participation of third-party developers. How does ThunderCore support the developers?
Anh – Co-founders at CryptoVN – CM at Thundercore:
Let me talk about an example, we have recently reached strategic cooperation with StakeZero, a top European investment institution, to set up En[code] TT club. TT club will be the incubator for blockchain projects, providing business opportunities for blockchain enthusiasts, especially students, and supporting the ThunderCore ecosystem. The teams that got approved to join the club will be supported by a 拢4000 grant upon successful completion. ThunderCore will provide development support for the club members, help find a better product-market fit and help them to raise more funding.
We work closely with StakeZero, whose team has rich experience in blockchain projects. Last year, "future of blockchain" hackathon was held mainly for participants from Oxford University and Cambridge University, etc, attracting 300 teams and 1000 people in total.
Some of the newly listed DApps on ThunderCore Hub are incubated from this program! Such as:
Punchline: A DeFi social game
Introducing Punchline v2: https://foxreymann.medium.com/introducing-punchline-v2-30405356a5bc
MimicStream: A Decentralized Video Streaming built on ThunderCore
4.https://medium.com/@mimicstream
PART 2:
@jiwwan15
"What are the plans of ThunderCore in place for global expansion, are you focusing on developing at this time? or focus on building and getting customers and users, or focusing on partnerships?"
Anh – Co-founders at CryptoVN – CM at Thundercore:
Good question!
Our main goal is to get as many people as possible to use ThunderCore Hub. Besides, we are also looking for partnerships with other projects to promote the community.
@zhizeng121
"What is ThunderProtocol's core producs and what these mainly featured for? What's its main function and how does it role in ThunderProtocol?"
Anh – Co-founders at CryptoVN – CM at Thundercore:
We have many products in our ecosystem, which you can see here: https://www.thundercore.com/products-landing-page/
Just download ThunderCore Hub and experience the Dapps and features we offer in them.
Androi: https://play.google.com/store/apps/details?id=com.thundercore.mobile&hl=en
IOS: https://apps.apple.com/us/app/thundercore-hub/id1471222243
ThunderCore Hub plays an important role in the ecosystem because users will use it to interact with the ThunderCore ecosystem.
@Mikadzuki12
"Can you tell me some features that you like best about ThunderCore so that it can compete with other competitors? What are you most confident about for your platform? What is your last goal to achieve in 2020 and ThunderCore's Roadmap for 2021?"
Anh – Co-founders at CryptoVN – CM at Thundercore:
Founded by top researchers and engineers in the field, ThunderCore is a leading public blockchain with its own native currency. Our servers are entirely trustful, decentralized, fault tolerant, and set a new standard of reliability and security.
There are 4 features:
Fast: 1 sec confirmation. Seamless user experience.
EVM Compatible: Full compatibility with all Ethereum smart contracts and tools. Port in seconds.
Scalable: 4,000+ TPS performance on par with VISA. Low gas fees.
Secure: Consensus protocol mathematically proven to be secure and unhackable.
For our goal and latest Roadmap, pls check for more detials.
https://link.medium.com/RMWWIpmdxbb
@whuzeng12
"What is your long-term vision about the industry which ThunderCore project is working at? Cryptocurrency industry is always thriving, what plans do you have to keep up with technology trends?"
Anh – Co-founders at CryptoVN – CM at Thundercore:
Great question!
ThunderCore is a technology and mission driven organization. Our long-term vision or core beliefs are:
Blockchain will fundamentally change the way humans interact with technology.
People will increasingly rely on, and trust, decentralized authority and service providers.
Unrestricted access to the benefits and value created by technology is a universal right.
The future is open, decentralized, and transparent.
ThunderCore's ecological development has been accelerating since the beginning of 2020 and we have planned a lot to keep up with technology trend. For more detials, pls check our Roadmap:
https://link.medium.com/RMWWIpmdxbb
@Nomanonsky197
"Roadmap is really important thing to make investor learn and believe about your project. Can you share us TT roadmap? How was TT journey from beginning and what are the next TT plan?"
Anh – Co-founders at CryptoVN – CM at Thundercore:
Pls check for more detials about our latest Roadmap.
https://link.medium.com/RMWWIpmdxbb
For example, For 2020 Q4:
Enable the possibility importing 70% Crypto liquidity on TT – Enable Cross-Chain Composability, e.g. wBTC, ETH etc.
Finance freedom – Fiat to crypto payment solutionQues system in ThunderCore Hub to improve the Thunder ECOSystem.
 ?ThunderCore AMA event winners:
Twitter segment:
@jiwwan15
@zhizeng121
@Mikadzuki12
@whuzeng12
@Nomanonsky197
 Quiz segment:
@cryptolover1010
@cryptolover1010
@Detubatan
@Detubatan
@cryptolover1010
@Tradersforfuture235
@Tradersforfuture235
@cryptolover1010
@tv100029
@cryptolover1010
@tv100029