Recap AMA CryptoVN x PolkaFantasy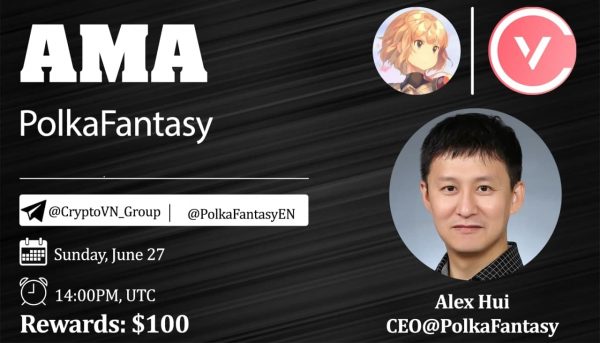 Time: 14:00 PM UTC – June 27, 2021
The ama session will have 3 parts:
?1. Introduction/Questions from CryptoVN Team
?2. Answer question from Twitter
?3. Live AMA
PART 1:
Host: 
Q1: Can you introduce yourself and the project a little bit?
Alex Hui – CEO of PolkaFantasy
Yeah, sure.
I am Alex, the CEO & founder of PolkaFantasy, the first-ever Japanese-themed NFT cross-chain marketplace in the world.
I have been in crypto space for many years. Previously, I was doing a lot about blockchain consultancy, project consultation, and software development. I used to run a software development studio, and was the director of a top 5 crypto staking company.
I am always fascinated by blockchain and its philosophy. Therefore, being able to bring PolkaFantasy to the blockchain world is like 'dream comes true' to me. The reason is simple: PolkaFantasy is something that I am passionate about, and we believe it's a project that will bring true value to NFT lovers.
In short, PolkaFantasy is the first-ever Japanese-themed NFT cross-chain marketplace in the world.
But it's more than just a marketplace. It's a platform for users to discover, create and trade the passion they care about.
The three pillars that start with PolkFantasy is:
NFT Wallet
NFT Staking
NFT Marketplace
There are many interesting features that I want to share in near future.
Host: 
Q2: Can you tell the community some of the PolkaFantasy achievements?
Alex Hui – CEO of PolkaFantasy
We are excited to announce that we have formed some significant partnership with many great & promising projects for future NFT space expansion.
Currently, we are working on some amazing NFT release which will delight many of our community members. We see NFT not just merely an artwork you buy from marketplace, we believe NFTs can accomplish more.
PolkaFantasy is built on a very unique positioning: the first-ever Japanese-themed NFT cross-chain marketplace.
It's not only about a theme change, but we head for a paradigm shift of what NFT is about.
What I mean is: with a strong background in game/animation and blockchain, our team is really passionate about bring a unique experience to community.
For example, we will put a lot of emphasis on the gamification part of the staking, marketplace, and wallet. We want user to be able to use these services just like playing a good game.
Take staking for example, users are not just staking on the platform, but they are 'sending' their NFTs for a quest to gain our native token $XP and new NFTs.
A lot of development is underway now. So I believe the community can see our products and collaboration very soon!
Host: 
Q3: Can you share PolkaFantasyroadmap?
Alex Hui – CEO of PolkaFantasy
2021 will be a busy year for our team. We are going to roll out 2 very significant products of PolkaFantasy:
– NFT Wallet
– NFT Marketplace
We are happy to share that our NFT wallet is almost complete. Our team is optimizing it and hopfully it will see the light very soon.
In very near future, we will also announce our first NFT collaboration. This will be something very unique in this space and hopfully people get excited by it.
As for our marketplace, we will roll out the first version in Q3. In PolkaFantasy, we believe quality matters. Therefore we really want to take time to make it something truly enjoyable to use.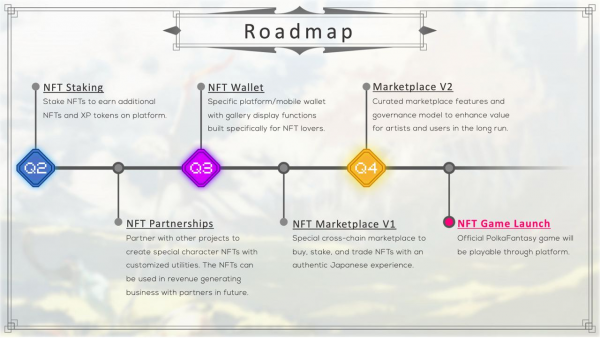 PART 2:
@SamaKhoa
Many new projects develop well at first, but then fail to achieve good results. How will you manage and develop your project to gain a position in the market and become a good project in the blockchain industry?
Alex Hui – CEO of PolkaFantasy
As a member in many other blockchain communities, I always have the same question. So, thanks for asking it because I know this matters to many of you.
First of all, passion matters in project. Many times we saw projects fail to achieve good results, it's often because people chases rabbits without understanding what drave them to start a project in the first place. Market condition, business strategy, and operation may matter, but passion and understanding of the biz matters most in many cases.
For many of us, there are always too much to do but too little time to do them well. Thus, people often do not see result and give up. Achievement requires determination; determination is driven by passion.
Though I cannot make empty promise that we will become one of the best projects in the blockchain world, I can say for sure that our team has passion about Japanese ACG culture and blockchain. And this passion will surely drive us to become better and better.
Besides, all of us are from the profession we are best at. Our tech director has literally 10 years experience in blockchain; our advisory comprises veteran from AAA stuidos in Japan. They were directors and C-suite people, and therefore have a very strong connection in the Japanese ACG (Animation, Comic & Game) spaces that we are working on. With this strong formation in both blockchain, publishing & game industries, our team are confident that we can secure a strong position in this space with our unique perspective.
@DailygameDylan
Creating local PolkaFantasy communities around the world is approach to promote the project and attract people. Is this something PolkaFantasy has in mind?Will PolkaFantasy encourage Marketing in 2021? Because practically every endeavor starts with MARKETING?
Alex Hui – CEO of PolkaFantasy
PolkaFantasy is all about communities, fun & passion. We want to create non-stop moments of excitement and delight through a marketplace (and game ?) that people passionate about.
This is not just a platform; it's a world for people to re-discover themselves and immerse into. That's why we put a lot of emphasis on user experience: an experience that unique to each member, and therefore valuable to them.
As mentioned previously, we are going into ACG culture with blockchain elements. or you can say we are bringing ACG culture to the blockchain space. Either way, we are the first mover who try to merge both worlds. It's a grand marketing scheme in both non-crypto and crypto spaces. If it's done right, community will be able to enjoy the amazing value/utltiies that both worlds bring together. This is a value proposition that makes our project strong and impactful in long run. We believe this grand vision. and we truly believe smart community members like you will see it too.
In short, our marketing strategy is to focus on building amazing products that community love! Only by doing this, we believe our good reputation will spread among communities. We promise to build PolkaFantasy with tangible result. And we believe this will be the best marketing that we can do.
@Shindz3
Did you conduct an audit for your project and what security measure did you put in place as insurance in case of possible security comprise? There are a lot of projects that have been hacked recently?
Alex Hui – CEO of PolkaFantasy
We put much emphasis on security measure on the projects.
First of all, our system and smart contracts are built by professional developers which have many years of experience in BLOCKCHAIN industry. They understand every details and are the perfect team to build the robust system for our project.
In addition, all our smart contracts will be audited by professional audit firms. This ensures that we have a good third-party approval of our professionally developed system/smart contracts.
We understand no system is perfect. Therefore, we have team to watch the project 24/7. We determine to discover any irregularites soonest and protect users with our immediate deployment of fix/solution.
@TheGemHunter2
For product development, what all are you focused  for future progress, can you share your biggest expectations from the project you are building right now? and what achievements are making and to be made?
Alex Hui – CEO of PolkaFantasy
For PolkaFantasy, we strive to build our reputation with the BEST quality art and products.
As you can see from our art work (I encourage to check our website!), everyone of them are created with our close collaboration with Japanese artists. They all have strong background in AAA design or game studio. Our team really want to show the community we have passion in this project. Therefore we aim for the highest quality which you can see with your own eyes.
In addition, PolkaFantasy aims to create a robust system where users/players can leverage the utilites of $XP tokens and NFTs.
This may come in many forms. For example, if you are hodlers of $XP. you may be entitled to get limited edtions of NFTs, or you can use $XP to get discount or flash sales of certain NFTs. Being PolkaFantasy user also entails additional benefits, such as NFT airdrop, $XP rewards etc. Besides, if you hold enough $XP tokens, you will become VIPs.
In fact, we have too many ideas to implement that may SURPRISE & DELIGHT most of you. It may be too early to talk about it, but we will surely release more information in near future.
If you love PolkaFantasy, we will appreciate your support to spread the words out. This is a project where you are the Heroes, and we all want to build it with amazing people like you!
Here I want to share how our team is serious how about QUALITY. Every character in PolkaFantasy come with a story and beautiful artwork like this. And many more will come in future!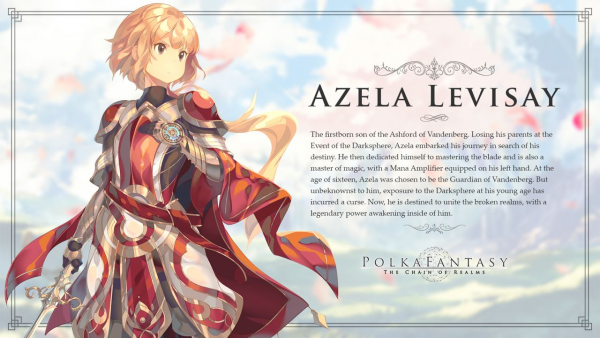 @Vasuann21795721
There are many very successful blockchain projects with the same ideas as Your project, so can you tell us the difference between Your project & those projects?Do you feel confident that Your project will have some outstanding features compared to those projects to attract users?
Alex Hui – CEO of PolkaFantasy
User experience is a core part in PolkaFantasy. We strive for excellent user experience because it ultimate matters to actual users.
In a successful marketplace, DISCOVER & BEING DISCOVERED matter. Therefore, we will leverage on a community-centric system which enables users to evolve the whole marketplace in an unexpected way.
Cross-chain technology will also allow creators to 'teleport' their NFTs between different blockchains. This gives flexibility to creators and buyers without confining them to any closed ecosystem. We will integrate many blockchain, like Ethereum, Binance Smart Chain, Polkadot, Cardano, Polygon etc in future!
Blockchains I named above are all amazing! We believe by capitalizing the strength of different blockchains, we can make PolkaFantasy marketplace a unique platform which goes beyond any single blockchain.
In PolkaFantasy, our philosophy is all about inclusiveness and speciality. That's how we can make community to experience the unique difference of our platform without going outside their comfort zone.
Of course, our team will go outside of our comfort zone and be innovative, in order to make the BEST user experience for our users.
PART 3:
@FanDefi
Is PolkaFantasy available for the global people or It's limited for some area? If it's globally available are you guies planing to introduce it globally?
Alex Hui – CEO of PolkaFantasy
The project is for global community, and it is specialized in a unique way that will delight most NFT lovers.
When our team talked about 'Japanese-themed', most people asked whether PolkaFantasy is curated platform, or whether it is limited to some regions only.
Our answer is: PolkaFantasy is a specialized open platform.
I mean, in theory, it is agnostic and people can create the NFTs they love. However, community can vote for their favorite NFTs and artists in long run. This creates a community-centric marketplace which will eventually gear towards the Japanese ACG (animation, comic, game) culture that community loves. It's a global biz with very specialized theme.
@MichaHarkins
Only getting users, holders etc is not everything. In my opinion, a project needs to deal with solving a real world issue or problem What is the problem that  your project primarily focuses on?
Alex Hui – CEO of PolkaFantasy
PolkaFantasy is the first-ever Japanese-themed NFT cross-chain marketplace.
Our premise is simple: to build the project with best user experience. Just like what you expect from one of the countries with best hospitality in the world.
The problems we are seeing these days are:
Many marketplaces are built on Ethereum network which entails high gas fee. This is not cost-efficient to both creators and users.
NFT utilities are still confined to digital arts. It's fine in its own right but we believe NFTs can do much more beyond arts.
No NFT markeplace exists to serve the huge communities of Japanese ACG lovers.
There are many awesome crypto wallets, but none is built for NFT from scratch.
With the issues above in mind, we decided to built a cross-chain solution ultimately and leverage on the best part of various blockchains.
@Emiliantan2
As a community based project, how can I contribute my quota to your success? Do you have a Global Ambassador Program or Referral Rewards System or bonuses for new people joining your project?
Alex Hui – CEO of PolkaFantasy
Thanks for this excellent question. We have indeed trying to implement something like this in the future.
For instance, our Marketplace will have a Referral Rewards System where users may be able to earn $XP tokens.
For now, we are building up our community in both Twitter and Telegram, and we will very soon announce a plan to airdrop something super amazing for some lucky members. Earlier members will have much higher chance of getting this airdrop. So, if you haven't join our Telegram or Twitter, don't wait until it's too late.
@AlinaWirth
Revenue is an important aspect for all projects to survive and maintain the project / company. What is the way to generate profit / revenue of token? What is the income model?
Alex Hui – CEO of PolkaFantasy
As a marketplace, commission to platform will be a main source for revenue. However, we don't stop there.
In fact, I cannot disclose too much at this moment, but we plan to have some excellent NFT plans which can bring constant revenue to creators without depending on the sales of NFTs. This may be a breakthrough in NFT industry and we really want to share this plan with the community in near future.
@Yunothinh
What is your top 3 things for priorities in 2021? Could you share some plans for the upcoming year?
Alex Hui – CEO of PolkaFantasy
Building
Buidling
and Building.
We are working days and nights to bulld the BEST products for our community. In 2021, we will focus on building NFT wallet/marketplace/staking, and starting next year we will focus more on game building.
? PolkaFantasy AMA winners:
 Twitter segment:
@SamaKhoa
@DailygameDylan
@Shindz3
@TheGemHunter2
@Vasuann21795721
 Live asking segment:
@FanDefi
@MichaHarkins
@Emiliantan2
@AlinaWirth
@Yunothinh