Recap AMA – CRYPTOVN X GOLDSWAP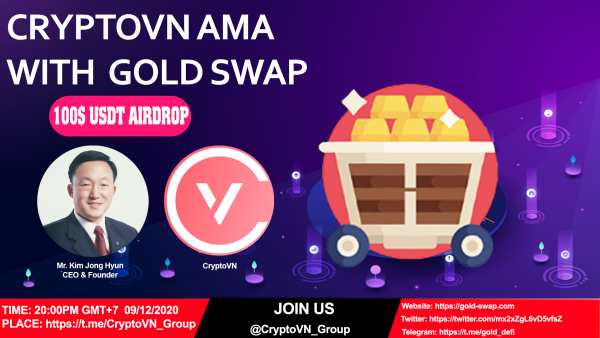 Time: 20:00PM (GMT+7) December 09, 2020
The ama session will have 3 parts:
?1. Introduction
?2. Answer question on Twitter
?3. Free asking
GoldSwap is the new swap protocol inspired by the previous AMM-based swap protocols such as Uniswap and SushiSwap. However, GoldSwap's redesigned tokeneonomics and operation strategy addresses the short-comings of other swap systems. At the core, GoldSwap delivers a community-governed, multichain protocol via the GOLDT token.
PART 1: Introduction
Host: 
Could you please introduce yourself?
Jong Hyun Kim – CEO & Founder at GOLDSWAP:
Nice to meet you everyone! Our company Greenudia is focused on the business of popularizing blockchain.
I am CEO Jong Hyun and Kim. I'm running 3 blockchain platforms.
The first is CPS Coin of the CPS platform, a blockchain-based anti-counterfeiting system.
Second, the ECC Coin platform is also operating, which is an environmental asset transaction, a system that pays for carbon credits through cryptocurrency, and a Humanforest game that actually plant trees in China through tree planting games.
Third, the QRP platform, which is a security token, is also in operation and is currently serving GoldT Defi.
Host: 
Sound great! Next question.
What is your role in GOLD swap?
Jong Hyun Kim – CEO & Founder at GOLDSWAP:
I am servicing 3 coins (CPS/QRP/ECC) related to the popularization of the global best blockchain.
Based on this, GoldT Defi was launched and provided to provide profits to coin holders in connection with Defi financial service, the latest global new financial product.
However, I am only a participant of GoldT.
In addition, we want to lead the continuous development direction of the launching of pools and games with GoldT participants.
Host: 
Last question for part 1:
Could you please describe what is GOLD Swap in few simple sentences?
Jong Hyun Kim – CEO & Founder at GOLDSWAP:
GoldT Swap is similar to Uniswap, but it is not only simple swap, full launch, transaction, but also safety, and aims to grow into the world's best Defi group by enhancing the continuous usability of GoldT ecosystem such as games and launches. Representative businesses include continuous POOL launch, game launch, and loan business.
Thanks!
PART 2: . Answer question on Twitter
1. @DailygameDylan
Many of investor just focus on the price of token in short term instead of real value of project. Can you tell us the motivation and benefits for investors to  long term?
Jong Hyun Kim – CEO & Founder at GOLDSWAP:
I feel your passion. Thank you.
That's a good word…
GoldT Defi has 3 coins including cps, ecc, and qrp, all of which are listed.
Representatively, BiONE in China and BitMart exchange in the US
CPS Coin has the world's best anti-counterfeiting system by linking the world's best unique identification mark and blockchain. Currently, we have received and are waiting for a proposal to apply to the Chinese Public Procurement Service for a request for tobacco and alcohol types.
It is judged that this will increase the CPS value through genuine certification inquiry, compensation, and royalty revenue.
In addition, ECC Coin is also developing, manufacturing and supplying vacuum systems related to bio and heating/cooling, and is pursuing the establishment of a large-scale joint venture with a Chinese partner.
The vacuum system is a boiler that generates heat and a vacuum sterilization air purifier.Acquisition of carbon credits through energy savings of 30-50% or more, and a vacuum sterilization purifier is an innovative project that prevents corona virus germs and odors, and particularly removes fine dust. As a major business of ECC, it will provide short- and long-term profits to Coin holders.
QRP Coin is currently used as a security token by converting US$30,000,000 of antique art items that lack liquidity into assets, and investors will acquire profits from asset disposal and distribution from QRP holding spot assets.
As above, GoldT Defi related coins are the world's best cryptocurrencies. In the short term, you will earn profits by increasing the coin value and participating in the GoldT Pool. In the medium to long term, all technology development will be completed and used, and will continue to benefit.
We, Korea and Vietnam, and Southeast Asia, can all become rich if they participate together. The United States and China started, and now Korea and Vietnam are starting. You are the pioneers.
Thanks!
2. @Nomanonsky197
As we can see there are many SWAPs such as Pancakeswap, hamswap… So what makes Goldswap stand out than these swaps? What is your plans for Goldswap in 2021?
Jong Hyun Kim – CEO & Founder at GOLDSWAP:
Gold Swap Let me explain what's different than other swaps.
First, GoldT Defi and Gold Swap have three of the best global coins in the world. In other words, investment stability is guaranteed. And three coins are listed on the central exchange, and now the decentralized exchange is collectively and autonomously operated to help popularize cryptocurrency transactions.
Second, 75% of GoldT, which is mined and compensated for stability and sustainability, is paid equally for one year, ensuring customer interest and business continuity.
Third, Gold Swap increases the usability of GoldT by continuously launching other coins. And it guarantees a strong ecosystem by being used as a payment medium coin in games, loans and shopping malls.
Fourth, GoldT develops a profitable business so that huge profits are returned to coin holders.
We distribute related coins to coin holders by increasing profits by investing in environmental business equity investment, vacuum steam business investment, and startup companies. GoldT promotes a strong holding compensation policy.
Gold Swap's plans for 2021
We plan to increase blockchain synergy and usability to activate the platform of CPS/ECC/QRP coins held by GoldT Token. I think this is a real blockchain business. And Gold Swap will continue to launch coins to grow into the largest aggregate of decentralized exchange Defi. In addition, in order to continue to increase the usability of GoldT, it will be used as an intermediary coin for games and shopping malls.
In addition, we plan to develop and service mechanisms for investing in cryptocurrencies such as Defi financial products and investments in other landmarks/high-tech companies.
This is what makes Gold Swap different from other Swaps, and Gold Swap's only goal is to ensure that coin holders get a lot more profits compared to other coins and swaps.
3 @Mikadzuki12
Can GOLD SWAP meet all the features & needs of the financial ecosystem? Can it offer Speed, Security, strong infrastructure, innovative ecosystem, stable use & good fee for trader? Can GOLD SWAP be the chief architect of the financial ecosystem?
Jong Hyun Kim – CEO & Founder at GOLDSWAP:
You are now listening to the business description of the world's best GoldT of Defi. The question of whether Gold Swap can meet all the functions and longevity of the financial world seems a bit overkill.
However, unlike other Swaps, Gold Swap has three of the world's best global coins, and based on this, GoldT Tokens are produced and serviced. Defi is a service that pays interest
This is a recent new financial trend and uses blockchain and cryptocurrency. In particular, the advantage of the blockchain is that it operates as a decentralized exchange, so there is no subject and no fees, no membership registration, or interference.
We believe Defi will become the mainstream in the future. We believe Defi will become the mainstream in the future.
Gold Swap is the world's best Defi with world-class Defi features, security and stability. Gold Swap has thousands of people involved in the marketing and GoldT Defi of its domestic marketing organization, with 10,000 3 coin coin holders, 14,000 ECC coins, Telegram users, and 110,000 GoldT Telegram users.
In the short term, Gold Swap will increase the value of coin holdings and reward staking, and in the future, it will receive dividend-oriented profits from increased users, blockchain services, advanced technology and corporate investment, and environmental business progress.
Gold Swap has the conditions to provide various financial services. As we are qualified to become the chief architect of the global financial ecosystem by continuously researching and developing blockchain and new financial techniques, we will do more.
4. @KamenRi46565454
Roadmap is really important thing to make investor learn and believe about your project. Can you share us Goldswap roadmap? How was Goldswap journey from beginning and what are the next Goldswap plan?
Jong Hyun Kim – CEO & Founder at GOLDSWAP:
Gold Swap is implementing the roadmap as planned, and if you are interested, you can view it through the Telegram room.
The next Gold Swap plan will be popularized like Uiswap and offer low commission services.
And we will make it the world's largest decentralized Defi exchange so that other coins can continue to grow.
5. @Kvindvr
GoldSwap's redesigned tokeneonomics and operation strategy addresses the short-comings of other swap systems. What is the lack of other swap systems that improved on GoldSwap? Also, why is it necessary to get improved?
Jong Hyun Kim – CEO & Founder at GOLDSWAP:
Yes
First investment stability.
The reason is that different Defis only have a single coin. GoldT and Gold Swap have 3 globally listed coins to keep customers' assets safe.
Second, Gold Swap has about 140,000 users. This has the conditions for global growth as continuous interest leads to investment.
Thirdly, GoldT is mined and is not compensated at once, but 25% is paid when unstaking, but 75% is paid in installments for one year to maintain stability and sustainability.
This is the first in the world.
Your participation will become more global, and your participation from now on will secure your return on investment.
PART 3: Free asking
@Spott
Question: " Token burn " helps to regulate the value of the token, will GOLD SWAP offer " token burn " ?
Jong Hyun Kim – CEO & Founder at GOLDSWAP:
GoldT Token plans to burn GoldT Token when profit is generated by promoting business for related coins, CPS/ECC/QRP coins.
@Honghb
Question: "What strengths does GOLDSWAP team have and what breakthroughs will there be in the near future?"
Jong Hyun Kim – CEO & Founder at GOLDSWAP:
It has the world's best unique identification mark and blockchain-based CPS coin, and developed Gold Defi Coin based on these coins to open and provide a decentralized exchange. From now on, it is the neck of the participants.
@jiwwan
Question: "What are the plans of GOLD SWAP in place for global expansion, are you focusing on developing at this time? or focus on building and getting customers and users, or focusing on partnerships?"
Jong Hyun Kim – CEO & Founder at GOLDSWAP:
Gold Swap's related coin, CPS/ECC/QRP coin, maintains the highest level in the world and is advancing into the global market. Blockchain-based, genuine product authentication, and cryptocurrency payment systems are the best in the world. GoldT Token is a decentralized exchange, where you become the owner as you participate. And GoldT has Chinese and Japanese partners.
@robiul1224
Question: "What makes you feel confident about the survival & sustainable success of Your project in the near future?"
Jong Hyun Kim – CEO & Founder at GOLDSWAP:
Gold Swap will continue to launch Coin Pool. In addition, 75% of the GoldT rewarded to the participant is paid out for one year to prevent the participant from leaving. And as an additional business, GoldT Token is continuously used for loans, games, shopping malls, etc., thereby enhancing GoldT's ecosystem and mobility.
@CSNDer0
Question: "Vast majority of Crypto projects are built just for the sole purpose of amassing wealth for themselves. So, I want to know the value you aim to add to crypto industry that will bring greater abundance to the industry?"
Jong Hyun Kim – CEO & Founder at GOLDSWAP:
Most cryptocurrency projects are created and maintained by a few technicians. It is judged that coins made in the name of the foundation are not used for the public good. The fundamental spirit of blockchain is decentralization. Now, the value of using the Internet should not be profitable for some people. Individuals must take that value. In other words, decentralization pursues interpersonal transactions, and this time Gold Swap created a decentralized exchange where individuals transact to reduce the complexity and interference of existing centralized cryptocurrency exchanges. CPS Platform is a company leading the popularization of blockchain.
AMA CRYPTOVN X GOLDSWAP Event Winners:
 Twitter segment:
@DailygameDylan
@Nomanonsky197
@Mikadzuki12
@KamenRi46565454
@Kvindvr
Live asking segment:
@Spott
@Honghb
@jiwwan
@robiul1224
@CSNDer0