Recap AMA CryptoVN x Trees Finance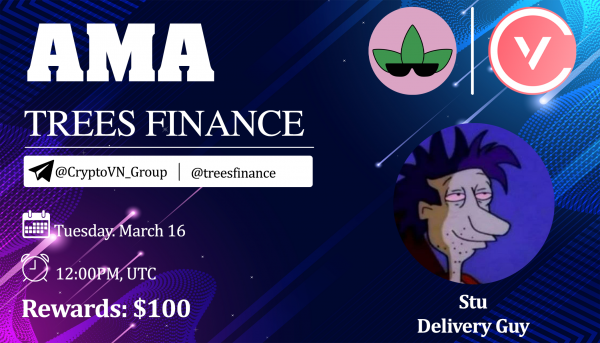 Time: 12:00 PM UTC – March 16, 2021
The ama session will have 3 parts:
?1. Introduction
?2. Answer question on Twitter
?3. Live asking
PART 1:
Host: 
Q1: Can you introduce yourself and the project a little bit?
Stu – Trees Finance Delivery Guy
Hey everyone, I'm Stu – main delivery guy for trees.finance.
A bit about me … I've been involved in a few large scale crypto projects in the past and so has the rest of the team. Our team is comprised of developers, artists, and creatives who love the sweet leaf.
This is however our first token launch that we have done on BSC. Our team has solid experience in solidity and building scalable solutions on the blockchain. Today I've brought along my main man @Elmo_fudd too
Host: 
Thank you.
Next question.
Q2: Can you tell the community some of the Treesfinance achievements?
Stu – Trees Finance Delivery Guy
you got it
So far since launch on March 1st we've accomplished a lot ….
✅ Completed the first NFT airdrop to early trees.finance supporters
✅ Deployed $GANJA contract on BSC mainnet
✅ Conducted $GANJA token sale (286 BNB Raised ??)
✅ Created $GANJA liquidity pool on PancakeSwap (locked for 90 days)
✅ Launch the trees.finance Smoker Club
✅ AUDIT by Quillhash – 100% SAFU
✅ Completed second NFT airdrop to Smokers Club members
✅ Got listed on Coingecko ? (CoinMarketCap pending)
✅ Upgraded trees.finance website (v2)
✅ Released first tree.finance NFT collection
And that's really just the beginning
Our 3 months roadmap is here:
https://treesfinance.medium.com/roadmap-the-next-7-days-beyond-e29e2002dae2
But we've actually surpassed a lot of the milestones we set out in our future roadmap already
In crypto its all about going fast and delivering even faster.
But we'll share more about whats coming in the Q&A section 🙂
Host: 
Q3: Can you share Treesfinance roadmap?
Stu – Trees Finance Delivery Guy
Sure, you can check out the link above
But the big step in the project is happening  this week! We're excited to launch the $GANJA Farm … where you can stake your $GANJA to earn fresh NFTS ..
https://medium.com/@treesfinance/welcome-to-the-ganja-farm-c91795e6b54b?postPublishedType=repub
PART 2:
@trn24459603
What are the ways is Trees Finance generating profits/revenue to maintain your project and what is its revenue model ? How can it make benefit win-win to both investors and your project? What are the ways is Trees Finance generating profits/revenue to maintain your project and what is its revenue model ? How can it make benefit win-win to both investors and your project?
Stu – Trees Finance Delivery Guy
Hmm… there isn't a revenue model attached to this project we are not selling a psychical or digital good or service, but maybe if I read your question a different you're wondering what makes our tokenomics and project something of value.  I'll answer it in two parts
First – we're a fork of an existing succesful project- CVT- which has done quite well on ETH. However, we actually believe we've improved on their token model by introducing more use cases/utility such as the Smokers Club holders only group and ourupcoming $GANJA Farm where you can stake $GANJA to earn fresh NFTs
Second is on Tokenomics, we're the first 100% community driven deflationary token on BSC and we've seen both the deflationary and community aspect work quite well as we just burned over 200 GANJA at our first weekly burn (each Sunday) which resulted in a nice price bump. We also held our first community vote which saw token holders vote to spend over 160 GANJA on marketing to grow the project + a 20 GANJA airdrop for this week!
We feel there are alot of wins for our community and those who invest in trees.finance – though we always advise to DYOR and only invest what you're comfortable with
@Mikadzuki12
Your project looks good but it confuses me that there are so many other good Blockchain project. Why should I pay attention in Your project to give it the importance it deserves? What are you most confident about for your platform?
Stu – Trees Finance Delivery Guy
I think I answered that pretty well in the first question – but in addition I might add that we make some absolutely dope NFTs … I haven't found a project with as cool branding and art so we got that going for us haha
A little sneak peak of one of the first GANJA farm drop … we're working on giving the lucky few who get this a few other goodies too.
IMO this might be THE coolest NFT ever made…
Aside from the NFTs (which are amazing) we also have a really cool aspect of the project we call the Smokers Club which is a $GANJA holders only group
Voting on the use of community funds is reserved for members of the trees.finance Smokers Club. To join the Smoker Club members must hold a minimum 1 $GANJA.
? Smokers Club members get:
– To vote on the use of community funds
– First access to trees.finance NFT drops
– Access to private round deals sourced by the team
– First access to any and all cool things trees.finance is working on
You can learn more about the Smokers Club and all the benefits here https://treesfinance.medium.com/introducing-the-trees-finance-smokers-club-%EF%B8%8F-c33a26572775
Ah before we go on I think forgot to intro our token properly … haha
trees.finance is a community-driven project inspired by Civitas Protocol and governed by GANJA, a BEP-20 token that rolls up 4.20% of each transaction into a community wallet.
Each week, token holders get to vote on how to allocate the GANJA collected in the community fund. The community can choose to:
?Light it up (burn supply)
?Take a hit (reward community members)
?Pass it (for marketing)
Tokenomics
5000  Fixed Supply – burned down to 2909 ?
70% Liquidity locked for 90 days
750 reserve locked for 90 days
140 team tokens locked for 90 days
Circulating supply ~2000 $GANJA
So on top of all the cool things I mentioned you can learn more about the project here https://treesfinance.medium.com/introducing-trees-finance-governed-by-ganja-4a5b825ec1a5
@MinhCrypto12345
One of the ways to promote the project and attract users is to create local TREES FINANCE  communities around the world. Does TREES have any plans for this In 2021, will TREES  promote One Marketing? Because MARKETING is the source of almost every project?
Stu – Trees Finance Delivery Guy
I'm a marketer by trade and dev by  nature so I value marketing a lot. IMO we've done a pretty good job building hype for the project as the price of $GANJA is are currently sitting at 3.5x listing and 4x pre-sale and our community is approaching 1300 members . But we also are working with some top marketers in the BSC space to ensure we amplify our messaging
@CbRsrs100
Auditing plays an important intermediary role in the development of  projects. What audit methods has #treesfinance applied in project development? Can you talk more about it?
Stu – Trees Finance Delivery Guy
Yes we completed our audit with QuillHash, and we were declared 100% SAFU!  Safe ape … you can see all the details here
https://treesfinance.medium.com/quillhash-audit-finds-ganja-token-contract-100-safu-ca807ab378d6
@sunhousehahaa
Collaborations and partnerships are some of the most important cornerstones to help improve adoption. Can you tell us about #treesfinance  current partners, plans for partnerships and what everybody stands to gain from these partnerships?
Stu – Trees Finance Delivery Guy
We've announced 1 official partnership so far and have others that are confirmed but yet to be announced …
The first partnership is with a really cool NFT marketplace developed by @NarutoBSC called JutsuSwap
https://treesfinance.medium.com/trees-finance-partners-with-narutobsc-to-mint-bsc-based-nfts-2831e7fa7b1c
The NFT space on Binance Smart Chain is in a nascent stage but we believe the same explosive growth NFTs have seen on Ethereum will happen on BSC in the very near future. It's critical that reliable NFT infrastructure is built on BSC, which is why we're glad to be an early partner of NarutoBSC & support their JutsuSwap NFT marketplace.
The next big partnership which we will announce shortly is with a leading global creative agency which is keen to explore the crypto and NFT space…
PART 3:
@zzcuna
Can you give us an overview of Trees Finance token economics? Is the token designed to rise and fall with the success of the platform, and does it include any scarcity paths such as stake, store, or burn??
Stu – Trees Finance Delivery Guy
You can check out our tokenomics in your Light-Up Paper
GANJA is 100% community-driven, a token for the people
The benefit to holders of GANJA is that the 4.20% deflation mechanic creates buy and hold pressure as holders experience an automatic yield on the value per token just for holding.
The absorbed 4.20% of tokens will automatically be pulled into a fully transparent governance wallet that will be used to provide a number of use cases.
Use cases are determined by the community and will go towards community-driven incentives that can be voted on and scheduled to take place, which may include at least the following initially:
– Burns — Permanent reduction on total supply
– Community Rewards — Giveaways to community members through incentives, competitions, airdrops, etc.
– Marketing — Marketing to increase exposure and adoption for the project
Any other use cases introduced will be decided and voted on by the community.
@kintrzis
Does Trees Finance TOKENS have any Coin Burn / BuyBack systems or any Token Burn plans to increase the value of tokens and attract investors to participate in investments???
Stu – Trees Finance Delivery Guy
$GANJA actually has a minimum burn mechanism built in
Out of the 4.20% that's rolled up in the community fund, at least 50% of tokens absorbed by the community wallet will be permanently burned each week (Never re-introduced into circulating supply and burned through the contract).
This past week we burned over 200  $GANJA which was worth $51,000
Here was the message we sent our community!
?We just burned down 202.273 GANJA?
Total supply is now 2910! ?
? Buy $GANJA  (increase slippage to 5%):
https://exchange.pancakeswap.finance/#/swap?inputCurrency=0x447c324f7eb99e512ff18308203b36d3c2607e0e
@kintrzis
Government regulations has wrenched many of these crypto projects , how will Trees Finance project its users from getting affected while investigating in Trees Finance ???
Stu – Trees Finance Delivery Guy
We're going to stay squarely in the DEX space which should keep us away from any jurisdicional issues. Also a reason why we don't have plans to list on and CEX now or in the future
@chaiuzbui
Can you briefly describe what is Trees Finance in 3-5 sentences? And what is your Mission and Vision???
Stu – Trees Finance Delivery Guy
trees.finance is a token for the people. 100% community-driven.
Our vision is to build an amazing community, connect artists to the crypto world, and help proliferate blockchain into parts of everyday life
@beccaka
What is the utility of your native token Trees Finance ? Also what special features do you have or plan to implement that keeps you ahead of your competitors?
Stu – Trees Finance Delivery Guy
1) $GANJA is a governance token which gives holders to right to vote on how the project uses community funds and join the Smokers Club
2) $GANJA farm  (launching this!) allows for token holders to stake their $GANJA and earn fresh NFTS.
The farm will launch at 12PM UTC on Friday, March 19th – staking for Smokers Club members will open 24hrs earlier….
https://treesfinance.medium.com/welcome-to-the-ganja-farm-c91795e6b54b
? Trees Finance AMA winners:
 Twitter segment:
@trn24459603
@Mikadzuki12
@MinhCrypto12345
@CbRsrs100
@sunhousehahaa
 Live asking segment:
@zzcuna
@kintrzis
@kintrzis
@chaiuzbui
@beccaka